Make-Ready Services
Invest $30,000, Make $50,000... or More
Stop me if this sounds like you.
You're looking to start the process of selling your home, or you've just purchased a home with Skelly Agency, and you need to make some touch-ups.
It's little things, like a fresh coat of paint, roof repair, a new kitchen countertop, maybe some new tiling in the master bathroom. But all those small ticket items can add up quickly. On top of that, many general contractors only take jobs starting at $50k.
Introducing Skelly Agency's Make-Ready Services.
Our Make-Ready Services include:
Spraying/staining cabinets

Roof Repair or Replacement

Replacing countertops

Tub-to-shower conversion

Electrical work

Painting & Patching (both outside/inside)

Landscaping

Handyman items

Replacing or New Tile
How it works for sellers and buyers: We have established relationships with engineers, painters, plumbers, tilers, handymen, landscapers, etc. that give us access to exclusive discounts only available to industry veterans.
We'll coordinate with all the contractors, working to get you the best industry prices, and manage the labor, to boot. All for projects between $0 and $50k that would have otherwise cost you $$$. So, all you'll need to do is kick back and relax.
Does our Make-Ready Serivce make sense for your home? Complete the Cost Benefit Analysis for results.
Explore our past Make Ready projects below! Just click on each picture to get started: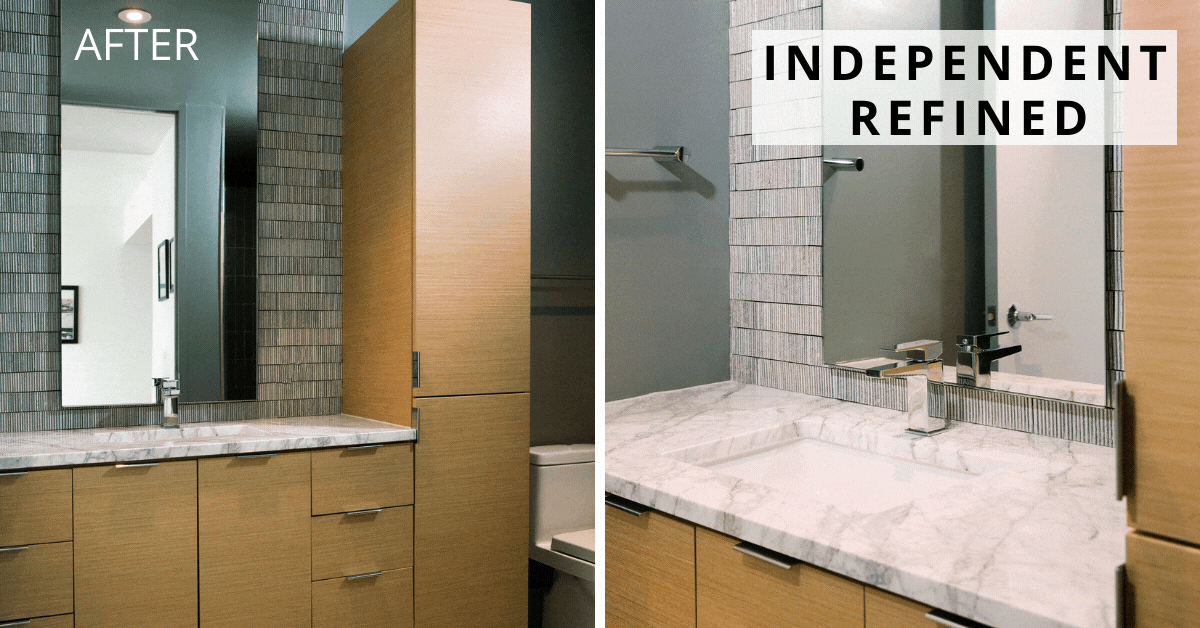 Cost Benefit Analysis for results.
Whether you're looking to sell your home, or you've just purchased your home, our Make-Ready Services are designed to increase your property value, and custom fit your home to meet you and your family's needs.
Fine print: *Investment and return is dependent on the property. Access Make-Ready Services with an executed listing agreement with Skelly Agency. Financing options are available upon request.
Testimonials
" Sean has represented me in every real estate transaction for the past 6 years, we have bought and sold 12 times in that time frame. He is extremely knowledgeable regarding the Austin market and brings valuable expertise and knowledge to his clients with his CPA education, construction experience and general knowledge of so many neighborhoods that he has lived in. Notably, his knowledge regarding the City of Austin, permitting, construction and sub contractors provides his clients with a serious advantage in this market. He has access to a lot of valuable trades and his communication with them is top notch. "
- DIANA SKELLENGER
" Marcus had some great insights on the buying process and was able to help us improve our ability to win the bid for the house, which is tough in this competitive sellers market. He followed through with the other realtor, the lender, and the title company to ensure a successful closing. "
- HEIDI CREAMER
" Working with Sean and his incredible team during my whole home buying process was nothing short of incredible. Sean is extremely knowledgeable about the real estate market. I purchased a new build as a first time homeowner, and it was the best experience. Sean was always available to answer any questions or calm any nerves. I worked with Sean on this purchase for over a year, due to being built, and he was there for it all. He came to all my meetings and explained every process thoroughly. I HIGHLY recommend the Skelly Agency team! "
- ALEX SIMINSKI
" Excellent attention to all details , very responsive and knowledgeable, dedicated to their profession and their client. "
- ADVANTAGE PT
" Thanks, Marcus, for your responsiveness and sheer tenacity in helping us with buying a home in this crazy market. "
- GREG CREAMER
" Relocating is one of the hardest decision to make. After listening to what is important to me, Marielle showed me one part of the Hill Country that totally fit my "dream location". She was very patient, listened well and diligent in searching for the right home for me. She was quick to respond to my questions (even late at night). She gave suggestions, asked good questions, researched on new developments in my searched areas and made necessary introductions that proved helpful as I went about my relocation. Marielle has a genuine care for what is best for the client as she knows finding the right home is personal and not just a sale. Working with Marielle is like working with a friend who wants the best for you. Highly recommended! "
- GRETCHEN SIBAYAN
" Sean was so great to work with. He takes the time to evaluate his clients needs before he even shows properties for sale. He is also upfront on value and constructions issues. He's not afraid to tell you something is over priced or that the builder is one to stay away from. His honesty will guide you in the right direction. "
- DAVE AND JODY DORNACKER-SPENCER
" Marielle was my agent when I sold my house in Round Rock, TX. Working with Marielle has changed my whole perspective when dealing with sales professional. Not only she exceeded my expectations but also impressed me how she was able to handle the stress of the whole process. She will work first thing in the morning and even late at night just to make sure that she handles everything in the transaction. At the end, I was able to get way more than what I expected because she was a great negotiator and an awesome agent! "
- JENNIFER ORATE
" Sean has helped us with multiple real estate transactions and it's always an easy process! He knows the ins and outs of the real estate process and has guided us well for years! "
- KATHERINE WALDRIP
" Marielle from Skelly Agency was so easy to work with! She helped us from searching homes in different locations favorable to us, meeting our demands and responds to inquiries promptly. This was our first time buying a home and it was a wonderful experience thanks to Marielle! we would highly recommend her :) "
- FRANZ PACQUING
" Marielle Rondubio was pleasant and courteous to work with during our search for our forever home. She was attentive to our needs and accommodating to our schedule. Thank you for helping us purchase our home! "
- JULIAN CAZARES
" We had the good fortune of having Sean represent us in selling our Austin home recently. He was very professional and helpful at every step in the process. His market analysis was compelling and he guided us to a great pricing strategy. If you want the perfect combination of professionalism and personality, I can highly recommend Sean. "
- KENT JACOBSON
" Sean and his team were excellent to work with while selling my home. They are extremely knowledgeable and were able to get me the price I was asking for within a short time period. I would definitely use them again to buy and sell. "
- MITCHELL ZLOTNIK
" Skelly Agency helped me review a number of investment properties in Austin. Sean was highly informed, possessed excellent market data, and shared good insights into the ins and outs of specific buildings. After purchase, he quickly helped me identify potential tenants, ultimately finding a dependable and friendly couple who moved in with little fuss. Upon their move-out, we walked through the property, and he has been actively working with me on future options. The service has been highly responsive, always insightful, and professional -- I am glad to continue having Skelly as my agent in Austin. "
- SUNNY CHU
" Marcus was so helpful in this chaotic market, constantly checking for new listings for us to check out and giving us pointers of things to be on the lookout for. So excited to get into this new house thanks to his persistence! "
- HEATHER CREAMER
" Sean Skellenger was our realtor for our recent downtown condo purchase. Sean is extremely knowledgeable and provided exceptional customer service throughout the entire process. He fulfilled our urban lifestyle dream, and we highly recommend him to anyone looking for a downtown real estate specialist. "
- TRUDY & DON ATKINS
" Patrick is like family! He went above and beyond in buying our home. Not only is he extremely responsive, professional and knowledgeable, but he didn't blink when we needed assistance while being out of state during the transaction. He helped us with several things that would have been a logistical nightmare. Not only did Patrick meet our car transporter to deliver our car, but while in the midst of dinner plans, he got a call about a furniture delivery that had come early prior to closing and had to go intercept the item for us. If you are in the market for a home (especially in this crazy market), we HIGHLY recommend using Patrick! He's terrific! "
- MARYE M.
Previous
Next